I'm not here to talk about God. This is not the place. But I can tell you with out much hesitation or apology that I believe everything happens for a reason. Like the other day, when I was browsing through
The Storybook Shoppe
's shelves and selected this one,
The Heart and the Bottle
, by Oliver Jeffers. Jeffers is the illustrator of the now very famous, chart-topping,
The Day The Crayons Quit,
written by Drew Daywalt. Because I am practically obsessed with
Jeffers
illustrations and work, I picked the book up and without even reading it, bought it and brought it home.
The same day of this book purchase would have been my biological father's 60th birthday and three days short of the 20th anniversary his death.
Would you know that this book was all about a little girl loosing a father figure in her life and how for years, she bottled it up inside, only to learn it was very hard to break her heart out? Everything happens for a reason. Though it's a children's book, I felt like the book was speaking to me on that day...
Once upon a time, there was a girl much like any other. Her head was filled with all the curiosities in the world.
Until one day she was alone...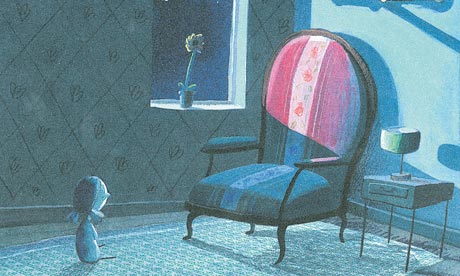 And she decided to put her heart in a bottle, where it couldn't break, and it couldn't be touched, and it was safe there. Only then she wasn't full of all the curiosities in the world. How will she come to realize she needs that heart? How will she break it out of that bottle?
This story isn't really about me. When my father passed away, I didn't put my heart in a bottle. I was surrounded by friends and family who wouldn't let me. I never lost a curiosity for the world, a passion for learning and art, and I didn't have trouble loving anyone. I miss him often but feel lucky that his death hasn't plagued my life with sadness.
Unfortunately, I know other people who aren't so lucky. There are many children that become introverted with such tragedy and loss, their lives forever marred from the loss of a parent. This book could help bridge a gap.
If you or your children are experiencing loss, and you need a book to help foster conversation and encourage sharing, I highly recommend this book. I still can't believe I selected The Heart and the Bottle on this anniversary of my father's death, I can only smile a little and think to myself -- everything happens for a reason.
BUY IT NOW for 10% OFF
Originally $17.99
Pay $16.11 plus $5 shipping and tax